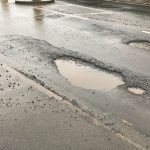 Last week I challenged the Transport Minister to meet myself and other local MPs to speed up the plans for a North Ipswich bypass.  Minister Jesse Norman agreed that he would be willing to discuss the priorities for road building in Ipswich – both the proposal for a road north of Ipswich and also the Upper Orwell Crossing (or Bridge).  I have to report that I have heard nothing further. I know Mr Norman is very busy and it may take time for him to make space in his diary to meet me, but I am certainly not going to give up asking him.
I also told readers that I had asked the County Council how they could justify having so many roadworks running simultaneously. If one road is closed then other roads nearby will naturally have much increased levels of traffic.  If two parallel roads are closed then the result is usually complete chaos.  I said I hoped there would be a very good reason. I told Suffolk County Council that I hoped there would be a very good reason.  I was told there were several very good reasons and that I would get an email to explain what they are.  I have to tell you that since last Friday I have had no such email from Suffolk County Council.
And in addition to roadworks we also have an increasing number of potholes. This pothole in Landseer Road has been reported to the County Council six times since 1 January, by members of the public and by local Councillors.   Each time the case is closed with the comment 'added to inspection programme'. Well, all the readers of the East Anglian and the Ipswich Star can now inspect it for themselves, and see the sort of hole that the County Council does not think is worth fixing immediately.
The County Council needs to show that it cares what people in Ipswich think or say. There is no justification for the random and chaotic way in which roadworks spring up across our town, nor for the lack of response to emergency repairs.  I wonder if the County Council are actually  in control of what is going on our roads.
On Wednesday in Parliament we debated the situation that the collapse of Carillion has forced on the government and on local public services. There is plenty of evidence that the Conservative Government continued to contract Carillion to provide public services even when it was obvious that they were in financial difficulties.  Now the services that Carillion provided, the jobs of employees who were working for Carillion, the pensions of retired and existing employees, and the very existence of all the small companies which were subcontracted by Carillion are all at risk.
By contracting out public services to the private sector, the government – and the County Council – are able to shuffle off responsibility for paying people at below the Living Wage, sometimes on zero-hours contracts, with reduced rights and benefits. They can demand "savings" as part of the contract package, and then blame the company they have contracted out to when those "savings" inevitably mean a reduction in the level of service.  And they can make sure that some of the taxpayers' money going into providing those services is syphoned off to pay dividends to shareholders.
The contracts with Carillion have gone sour because the company has gone bust.  But even when the company involved remains in business, the deal that the taxpayers get is never as rosy as the promise.  In the case of Suffolk County Council, outsourcing Suffolk Highways to Kier has led to a serious loss of control.  This means that public accountability for your taxpayers' money is lost – it is no good asking the County Council what is being done to fill potholes or to reduce the time taken to carry out road repairs – the decisions are in the hands of Kier which is an unelected company only interested in its profits and the amount it can pay its shareholders.
The whole of the Ipswich economy relies on being able to get around.  Congestion and air pollution in Ipswich are no longer tolerable. The Government and the County Council appear to be ignoring us. I am getting angry, and I expect you are too.  The time for being polite about this is over – we need action, and we need it fast!