On Monday, I was shown around the Salvation Army's Lyndon House, by Sharon, the Manager, and two of the residents.  They spoke about their experiences before coming to Lyndon House and what it means to them now.
Both had been chronic alcoholics, sleeping rough, in trouble with the law, and losing all connection with their families. One had been in prison. Lyndon House provides them with a home until they are ready to move on, counselling, friendship, and the sense of self-worth they need if they are to break the cycle of addiction and despair.  Many of us are quick to judge men like this – but one of them had fought for our country.
Men are referred from Suffolk's supported housing list – which has about 200 people on it.  Lyndon House has just 39 beds – about right for this sort of hostel, but it's always full, so we need more hostels.  Even when residents are ready to move on there is nowhere to move on to – some have been there for 3 years, and the average stay is 11 months.
Homelessness, loneliness and addiction are terrible scourges in Ipswich, and we desperately need the facilities that the Salvation Army provide.  It's not just about finding housing for homeless men, it is also about helping them to turn their lives around and enabling them to eventually move on and lead meaningful lives.  So I am sure most readers would agree with me that the Government's funding changes, which will deal a severe financial blow to the Salvation Army and other similar hostels such as the YMCA, are clearly wrong.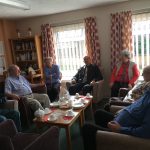 On Tuesday I visited Bridge View, which provides sheltered housing for elderly people.  Residents including Marjorie had written to me because they were so concerned that the removal of the sheltered housing grant by Suffolk County Council would put their supportive home at risk.  Orwell Housing will have to pass on some of the care costs to the residents, but they are determined to continue to support residents as they have done.  No doubt there are some providers, who are not so focussed on the needs of their residents, who will not do that.
Marjorie has given many years of care as a nurse. Now she is 84 she needs and deserves to get some of that care back. Recently she had a nasty fall and had to go into Ipswich Hospital.  Once her medical treatment was completed, she had to spend 6 additional weeks in hospital waiting for a suitable place in a residential home which never materialised.  Eventually, Bridge View obtained the equipment they needed to enable Marjorie to return to her own flat.
There is an enormous amount of care being provided here – but it is still far cheaper than hospital.  Why is funding for Bridge View and other places like it being cut, when the lack of supported homes leaves older people unable to move on from hospital beds, the lack of beds leaves ambulances queuing outside the hospital, and because the ambulances are queuing at the hospital people are left lying on the freezing ground in agony for hours?
On Wednesday I visited the home of several young people aged 16 to 21.  Many were in foster families and now have nowhere else to go.  Unlike most young people they don't have parents they can turn to.  They have no money and without support most of them would have no prospects either.  In this home they get advice, emotional support, training in the basics of independent living, and guidance towards a decent adult life.
After 2 years the funds disappear.  If they move in at 16, they have to leave at 18.   The Council and Housing Associations don't house young fit single people.  There is no adequate deposit scheme to help them find private rented accommodation. Often they are forced into unsuitable shared properties or "bed and breakfast" which is home to older people including ex-offenders, alcoholics and drug addicts.
The most expensive place anyone can stay is either in hospital or in prison.  Many of the people currently there do not need to be, and would never have been there at all if they'd had the support they needed. And yet, more and more cuts are falling on precisely the places which provide that support.  If an adequate system for supported housing is not restored soon, I foresee the fabric of our society beginning to rupture, as it has in parts of the United States.