Last November, I wrote about the desperate shortage of nurses, and about how we are not supporting student nurses to finish their courses.
This week I attended a briefing session by the Royal College of Nursing and met a student nurse from Ipswich to hear her story.  She is one of the strong-minded young people who have persisted, despite all the difficulties that society has thrown in her path, and is now almost ready to qualify.  After that, I thought it was important to read the transcript of a debate in Parliament that evening on the nursing crisis, so that I could understand the difficulties the NHS faces, and share my thoughts with you.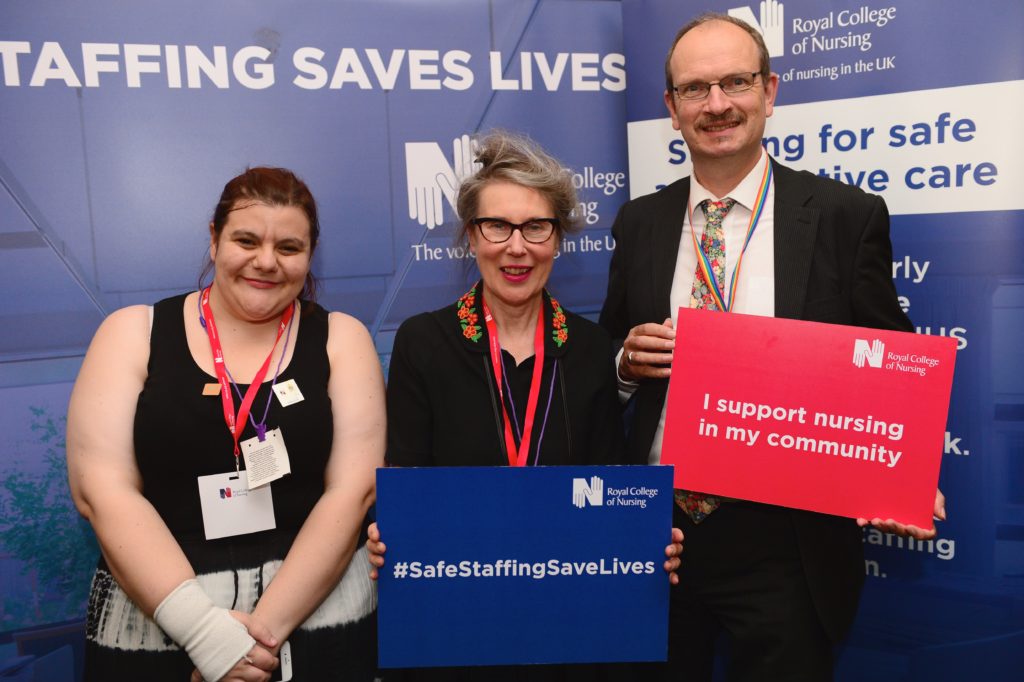 One point I made last November was that we need more Higher Education nursing courses such as the one offered at the University of Suffolk.  The Government needs to be far more active in supporting courses which our country needs our young people to take.  Instead of this, the Conservatives have abolished the nursing bursary and, as a result, applications to train as nurses have fallen by 30%. There are almost 40,000 nursing vacancies in the NHS in England alone, and the Government has done virtually nothing to address this since we raised the issue last November.
In June 2018, the Prime Minister said: "Growing demand and increasing complexity have led to a shortfall in staff. So our ten year plan for the NHS must include a comprehensive plan for its workforce to ensure we have the right staff, in the right settings, and with the right skills."  But when it was finally published, NHS England admitted that workforce planning was not actually part of the "Long Term Plan". There was nothing in their plans to identify the number of nurses and other health professionals that we need, to identify the Universities and other training places which would need to provide places, to fund those places properly, or to enable people to take up those training opportunities. 
We need adequate support for young people deciding to train as nurses, but we also need to make it easier for mature learners too. Applications for nursing courses from mature students have decreased by 39%, even more than from young people. That is hardly surprising as there is now no adequate financial support to enable a mature student to study.  A large proportion of our nurses have always come into the profession at a later stage, with a wider range of experiences and knowledge of other people.  But now, unless they have a partner or parent with plenty of spare money who can sub them through the course, they have no chance.  It seems particularly ridiculous to me that our society is prepared to pay people to remain unemployed, but refuses to pay them enough to train to be a nurse or for some other vital role.
We're not just short of nurses.  If we're going to build a healthy society we need anaesthetists, dentists, dietitians, medics, midwives, occupational therapists, ophthalmologists, psychiatrists, physiotherapists, psychologists, paramedics, pharmacists, podiatrists, radiographers, social workers, support workers, and many many others. Yet there is nobody – not NHS England and certainly not the Secretary of State for Health – who is taking responsibility for making sure we have the training courses we need or the trainees to take them up.
The situation is critical.  Because of the shortages, nurses can find themselves working 12 ½ hour days.  They can't give patients the personal service they would like, which often helps identify problems early.  The grinding effort is leading more and more qualified nurses to leave the profession.  And the more who leave, the more those who remain will feel ground down.
Against this background of more and more work for fewer and fewer nurses, we are losing many of the European nurses who filled the gaps in the past.  Since the referendum, more than 10,000 EU nurses and midwives have left the UK. If we crash out without a deal, this flow of health professionals away from our NHS  could become a mass exodus.
We need to train far more of our own people.  The UK trains about half as many nurses per head of the population as the average developed country. 
It is time the Government got a grip, stopped leaving everything to market forces and started taking responsibility for ensuring our NHS has got the nurses it needs.