NEWS
European Union (Withdrawal) Act debate – 6th December 2018
Please follow this link to read my speech or watch it here.
Independent Bailiff Regulator
Sandy Martin MP tabled the following Early Day Motion 1632 on 13th September 2018:
"That this House is shocked and saddened to hear of the death of Jerome Rogers, a young bicycle courier who, after being aggressively pursued by bailiffs, felt driven to take his own life; notes the evidence from Citizens Advice of poor treatment at the hands of bailiffs across the UK; considers that the 24% increase in the number of bailiff issues since reforms to the bailiff industry introduced in 2014 demonstrates that these reforms have not worked; further notes reports of enforcement agents acting inappropriately towards Citizens Advice clients, refusing offers of payments, entering homes when they ought not to and charging disproportionate or inappropriate fees; recognises that people who are visited by bailiffs are disproportionately likely to be vulnerable, with half living in social housing, one in three having a long term health condition or disability, and more than a quarter being single parents with dependent children; and calls on the government to institute fundamental reform of the sector through the introduction of an independent bailiff regulator and an independent complaints process."
I will join the Great East Run half-marathon on Sunday 16 September, to raise money for the Ipswich Housing Action Group (IHAG). The regional half-marathon for East Anglia is again being run in and around Ipswich, and I am proud to be able to take part. I have never in my life run 13 miles and so the whole prospect is a little bit scary, but with the good wishes of all those who want to help the homeless behind me I know I can complete the course.
A summit of community leaders last year showed that street beggars in Ipswich, and anyone who is genuinely homeless, will benefit more from donations to charities such as IHAG which can provide advice, housing and other essentials, rather than from direct gifts of cash. That is why I am running in the Great East Run in Ipswich on Sunday 16th October in support of IHAG, and am asking you, if you want to help the homeless in Ipswich, to pledge your support by accessing my Local Giving page at https://localgiving.org/fundraising/sandysrunforhomeless.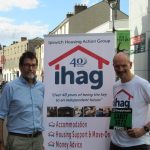 Financial support for children's hospices
Sandy Martin MP tabled the following Early Day Motion 1564 on 4th September 2018:
"That this House notes that across England, 40,000 babies, children and young people with life-limiting and life-threatening conditions rely on palliative care to enhance their quality of life, manage symptoms and provide their families with much needed help and rest; expects demand for children's palliative care to grow as the number of children with life-limiting conditions increases; is concerned that the funding for services hasn't kept pace with this demand and has become a postcode lottery; notes the NICE calculation that investing £12.7 million in end of life care for infants, children and young people, would release non-cash savings worth £34.7 million back into the NHS in England; and therefore calls on the Government to increase the Children's Hospice Grant to at least £25 million per year, which would cover 14% of the cost of the clinical care provided by children's hospices, equal to the contribution originally made by the Department of Health in 2006; address the funding disparity between children's and adult hospices whereby children's hospices currently receive only 22% of their funding from statutory sources, compared to 33% in adult hospices; and put in place a funded children's palliative care strategy to ensure that seriously ill children can access the care and support they need, when and where they need it, in hospitals, children's hospices and in the community."
CAMPAIGNS
I try to personally respond to all campaign correspondence within 3 weeks. Below you will find copies of my responses to various campaigns, on subjects as diverse as Childcare Vouchers, Puppy Smuggling and Proposed Changes to Knife Laws.